In the summer of 2020, the Lord led us through an experience of trust and listening. We had been in quarantine for the winter. In June the Lord put it on our hearts to come together and use the outdoors as our classroom. We met a couple of times each month and He helped us put the lessons into being. Each session was a testimony of God leading and guiding our hearts and minds.
It was astounding that as we progressed, we saw a pattern forming. Not only was He using the Lord's Prayer to teach us how to pray, He was using the example of the seed of His spirit and the seed of prayer as an example through all the lessons and prayer points. It was exciting to see what would happen next!
Another wonderful thing we noticed was the love, hope and joy that each lesson provided. When we taught Repentance, we were given the example of the Robe of Righteousness. After Repentance and Forgiveness, He taught us about FRUIT! The Fruit of the Spirit that follows righteousness. What a loving Father! His way of teaching the children was through showing the benefits and blessings of righteous living, not the other way around.
This series of Prayer Points are foundational to all of the others. Ask the Lord to show you how to reach the children in your care. We will share what we did and hope that it will be a spring board for your group.
*****************
KKITs
(Kingdom Kids in Training) ages up to 8
KKids
(ages 8-12)
YAKKs
(Youth Assistants 4 Kingdom Kids) ages 13 +
*****************

Talking to the King
A. Rooted and Grounded
Being rooted and grounded in God's love is the very foundation of faith in Jesus. If we don't know of a surety that we are loved by God, we are not rooted or grounded. When the trials of life come, and they will, our spiritual lives will be rocked and tipped over by the storm.
We are told over and over to love the Lord with all our heart, might, mind and strength. It is hard to love something we don't know or something that doesn't love us. This is why the seed of faith must sprout and as we exercise faith, we begin to see His love in everything, which roots us and grounds us. His love is called the most precious fruit.
I John 4:19 says We love God because He first loved us.
For adults, this may develop over time. We can look back at our lives and see the times when the Lord showed us His love. Or, we see the times when we felt abandoned, not understanding all the workings of God. Later we can see how He was working in and through the trials of our lives, still loving us, even though our love for Him was waning.
Children do not have that history. If they are told, from an early age, Jesus loves you, they believe. Their faith is often strong and unhindered. Jesus said of children, "of such are the kingdom of God."
The Holy Spirit must reveal God's love into each heart. We can't make it happen. But, this lesson is to help plant that seed and help it to grow.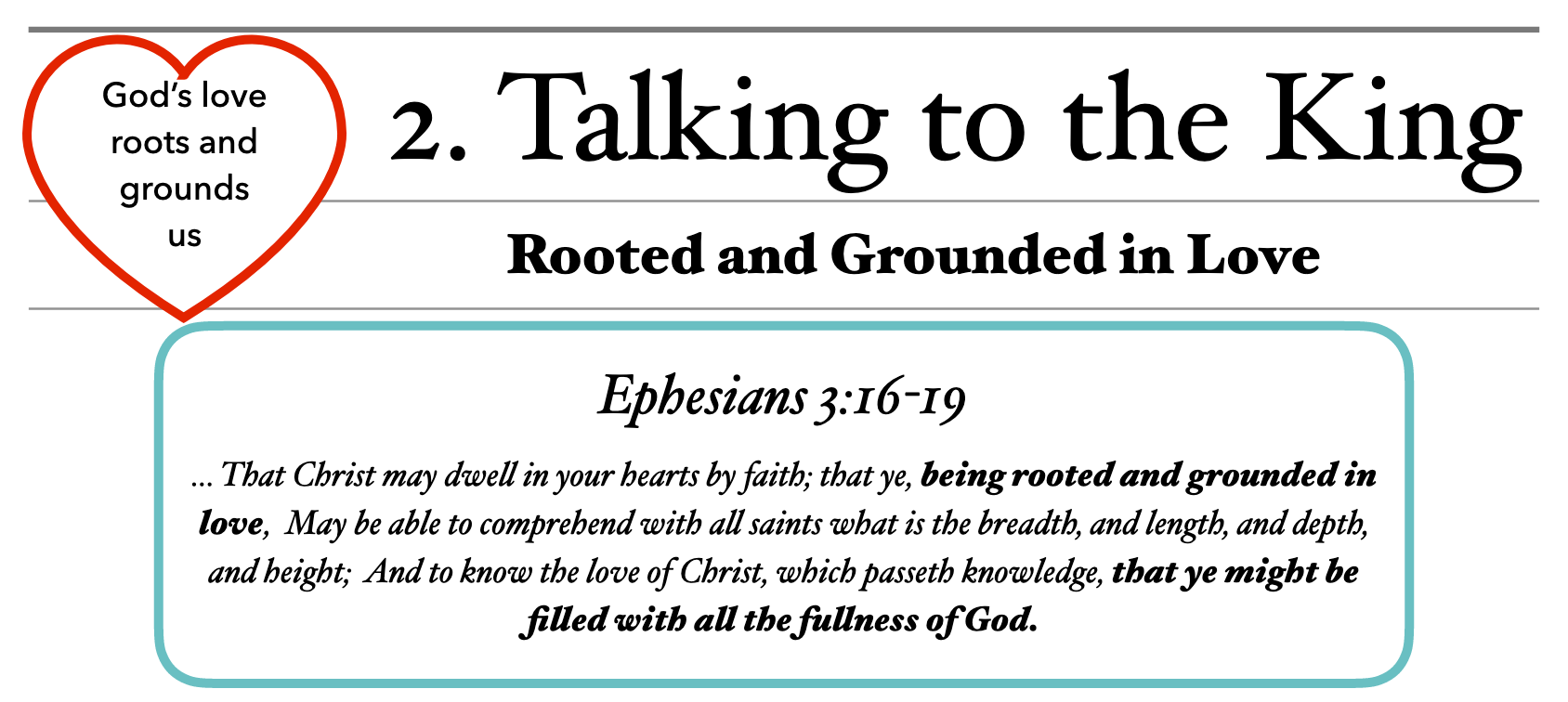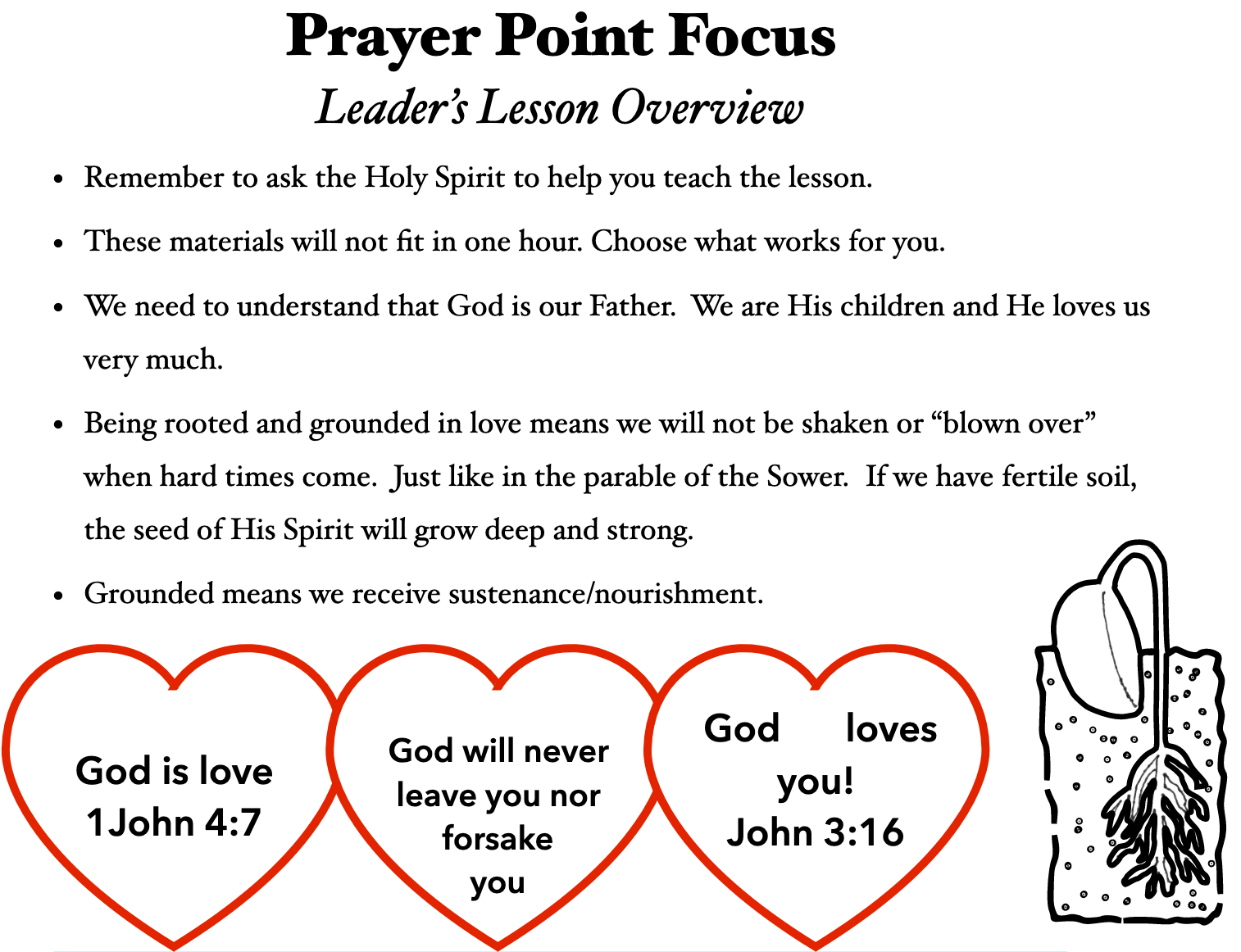 Email us for a pdf of the Prayer Point Lessons
-------------------------

----------------------------
Talking to the King
B. Praise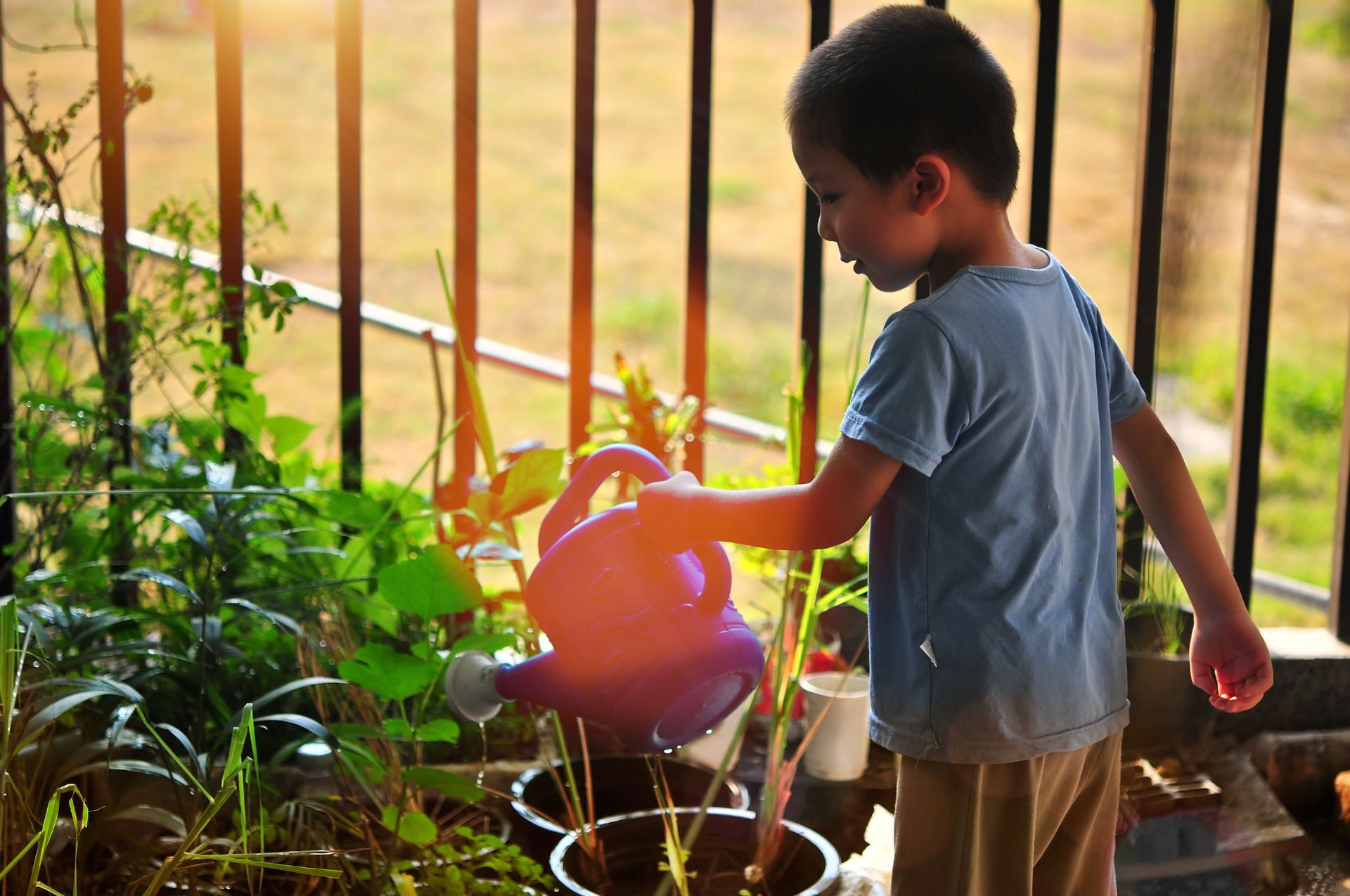 Praise is the natural response of a life that knows God's love. If we are rooted and grounded in His love, the natural response should be to praise and thank the Lord. When Jesus came into town on what we call Palm Sunday, the leaders tried to get the people to hush up. They were shouting praises to King Jesus. But Jesus said that if the people were silent, the very rocks would cry out.
The purpose of this chapter is to encourage praise as part of our prayer life. It can be a powerful part of prayer. Psalm 100 says we enter into his gates with thanksgiving and into his courts with praise.
We can practice praise and the Lord accepts our sacrifices of praise. Hopefully, the beautiful moment arrives when our praise is no longer practice, but comes from a heart full of thanksgiving and adoration.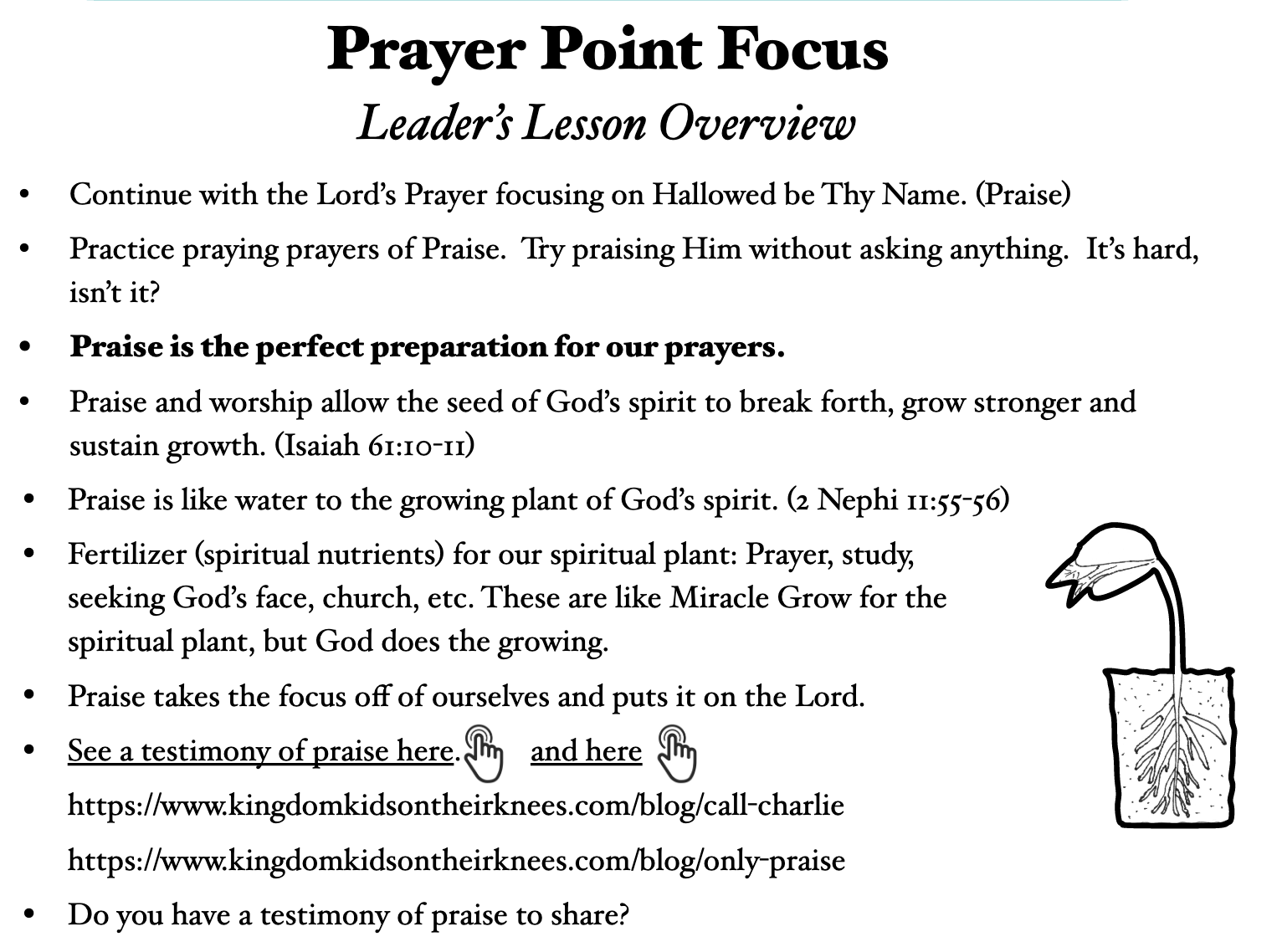 Th Lord's prayer is a pattern for prayer. It is not intended to be prayed word for word every time we pray. But, it shows the different parts of prayer that Jesus taught His disciples. In the Lord's Prayer there are many layers and it goes much deeper than we realized before teaching it.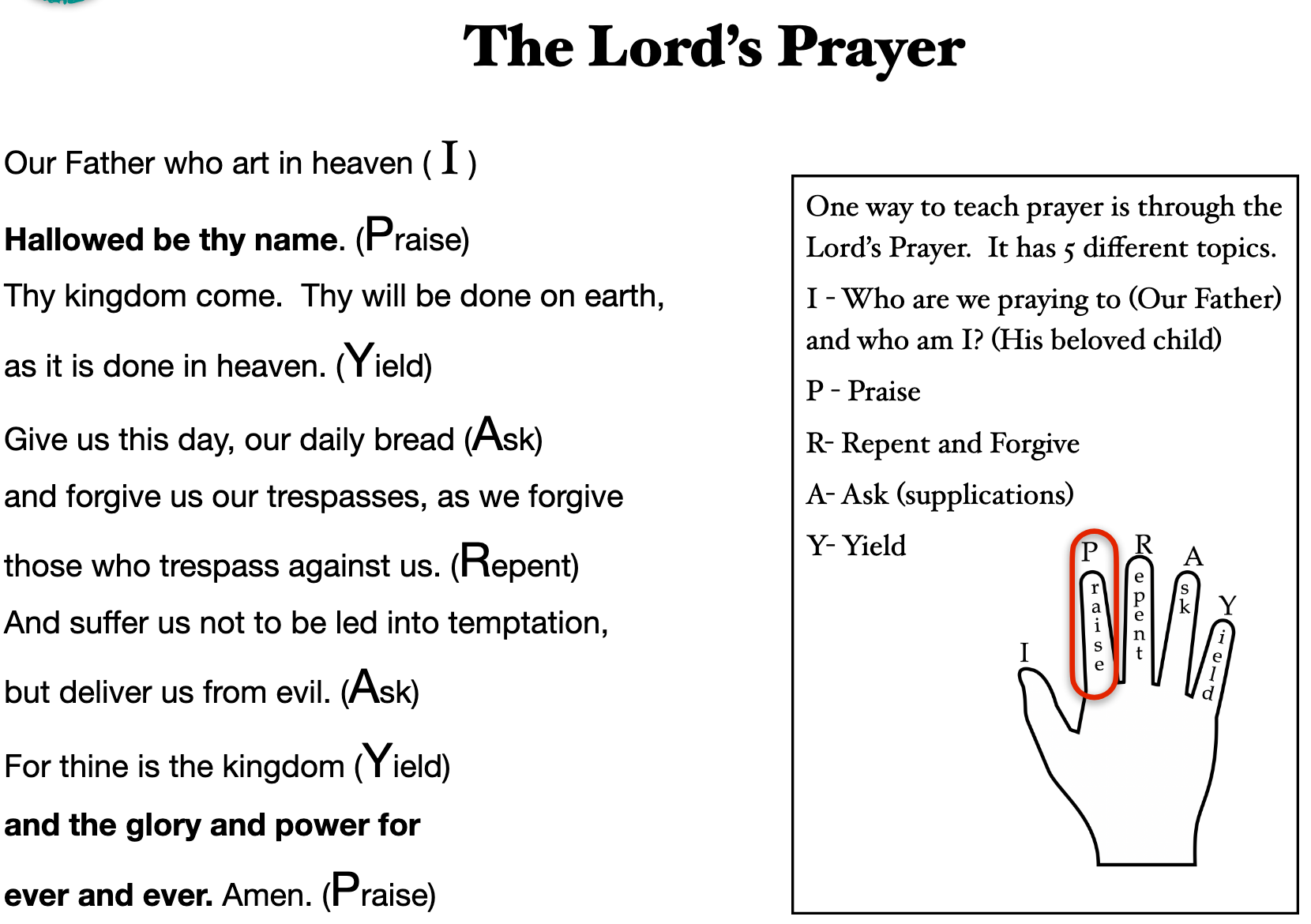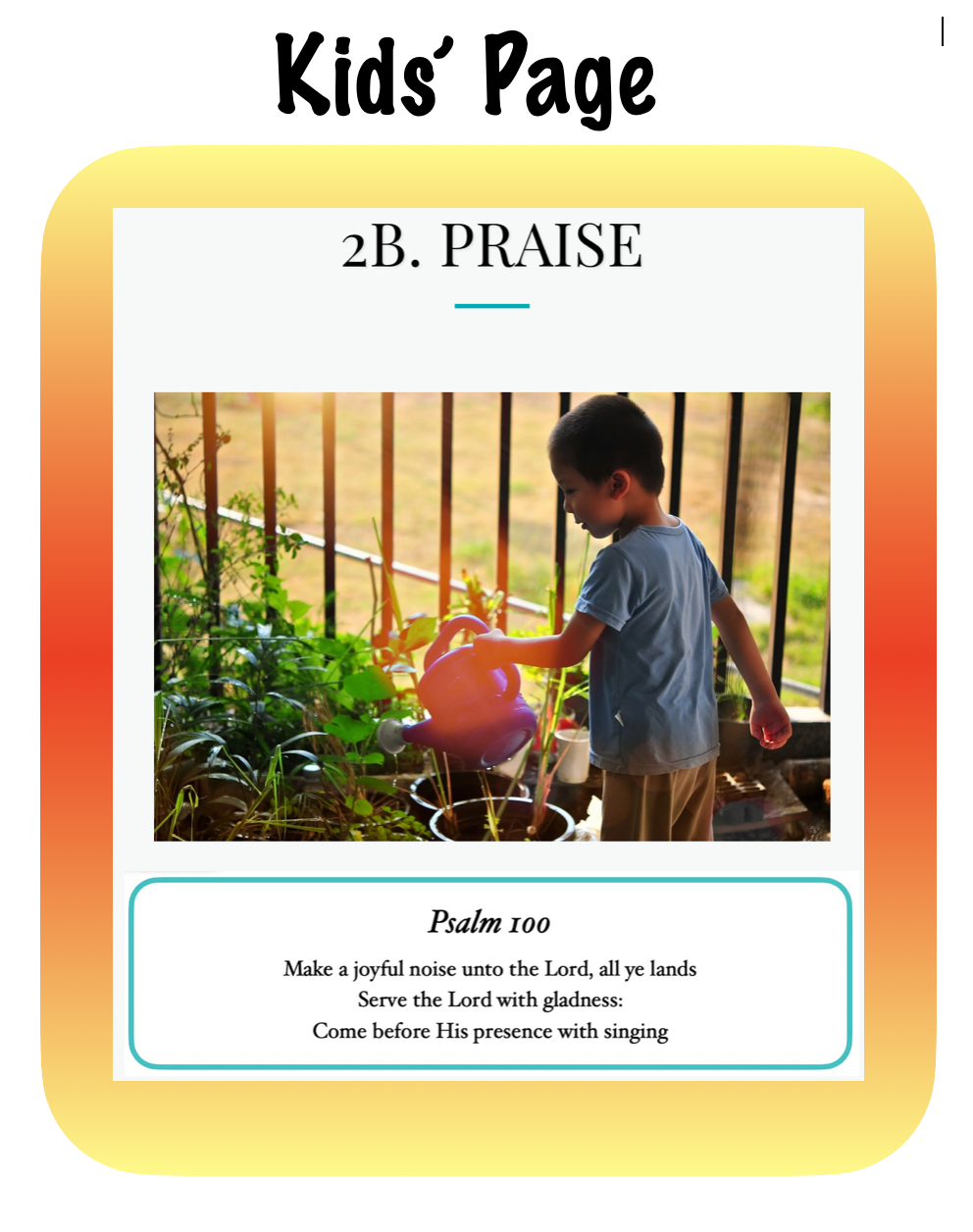 ----------------------------
Talking to the King
C. Repent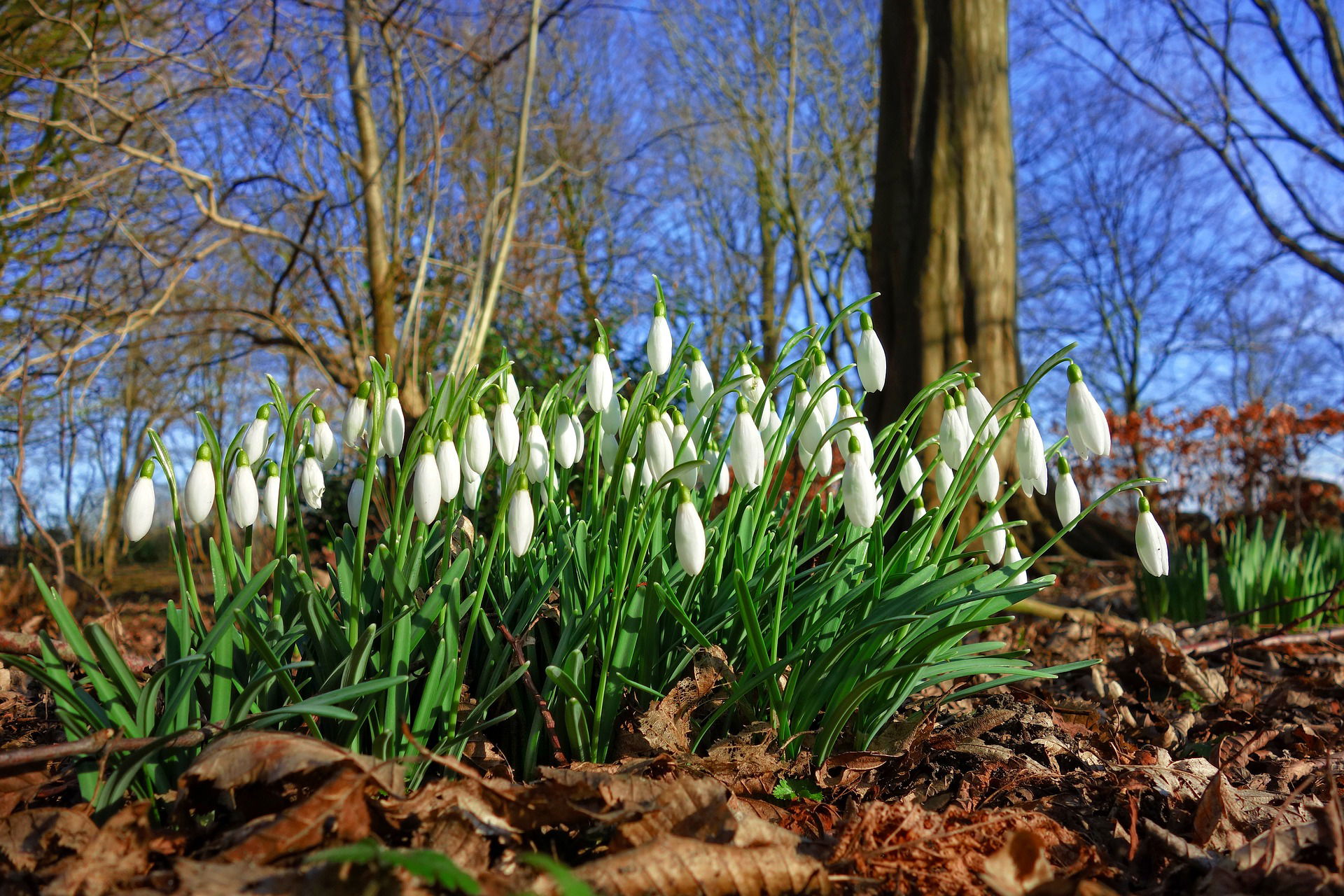 Repentance is a response of love. God loves us so much that He doesn't want us to be separated from Him. Sin separates us from Him. Repentance and forgiveness is a gift of God. He sent His son Jesus to take our sin upon Him. What a beautiful act of love. Repentance should not be a hard heavy thing. It is an expression of love to the God that loves us.
When we came to this lesson, the Lord reminded us of His robe of righteousness. It is His righteousness that makes us clean. On our own, we can never be righteous. But, we accept His stripes and His blood that washes us clean.
I John 2:24, 2 Corinthians 5:21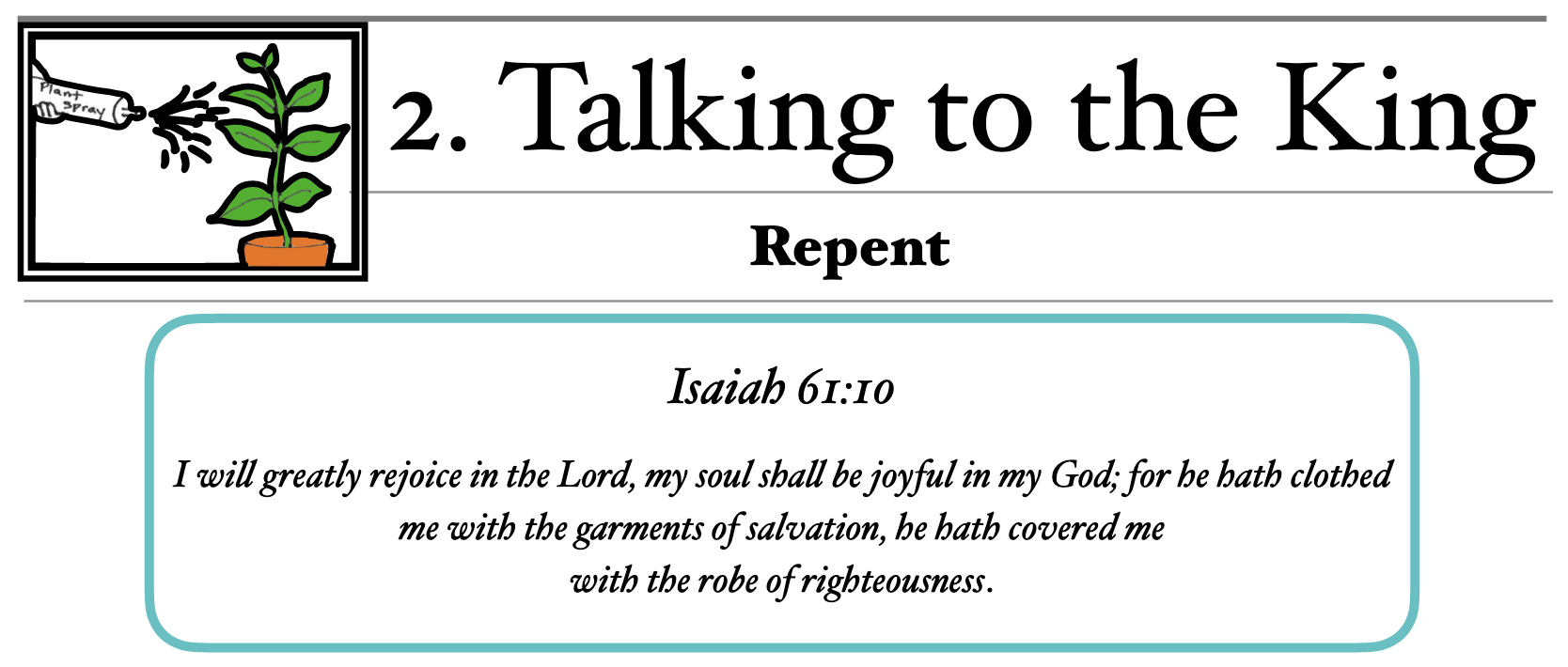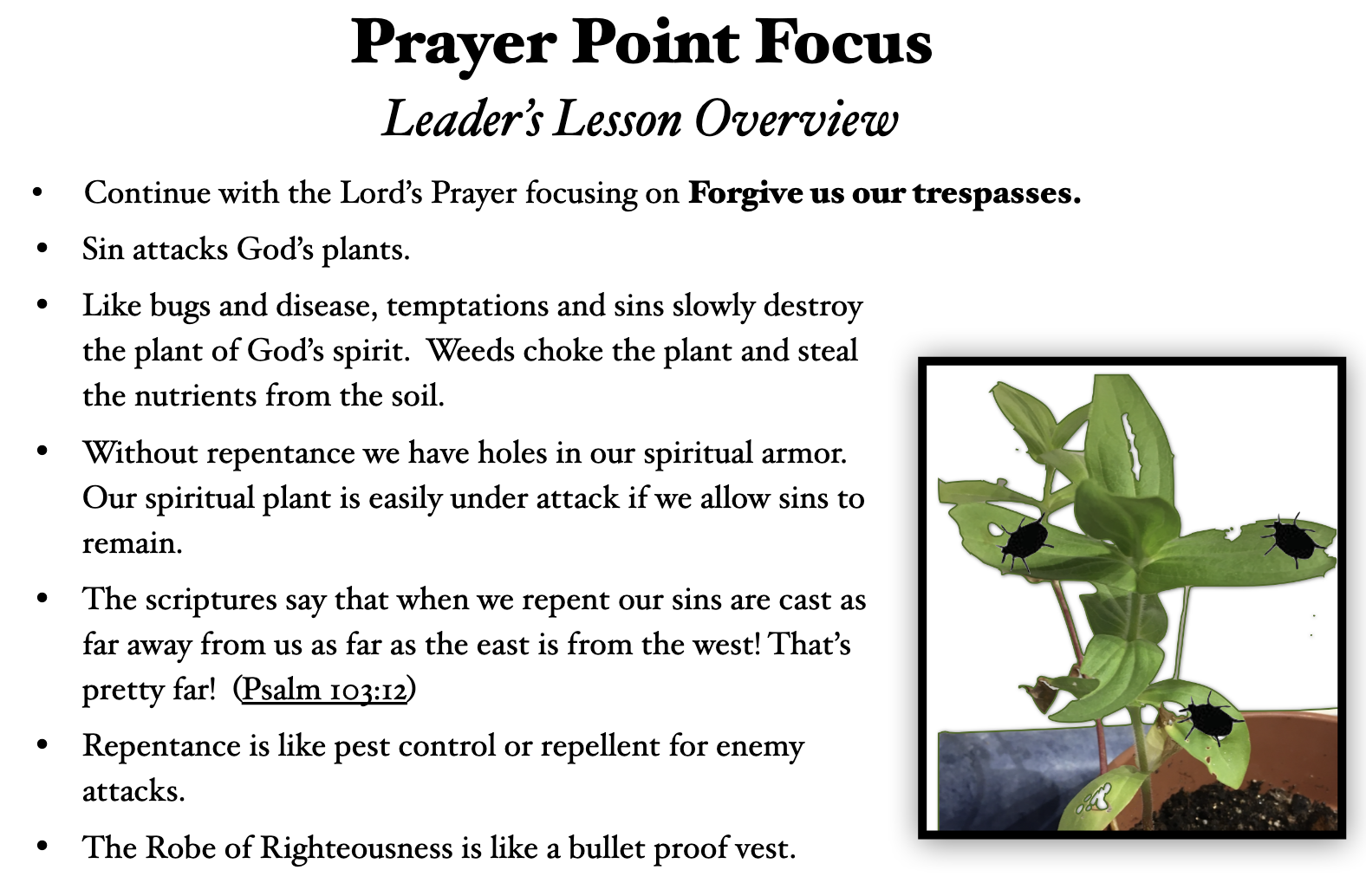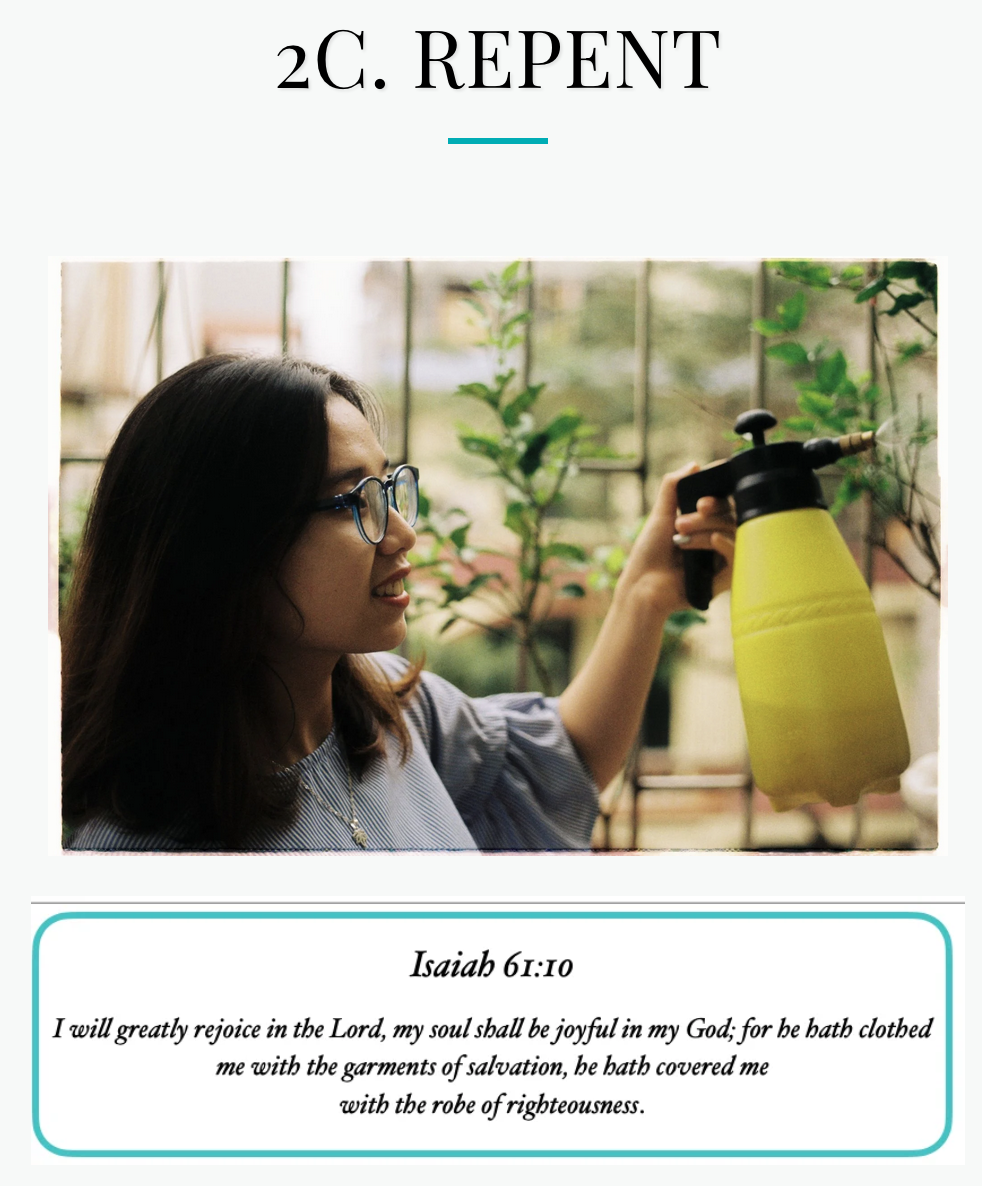 ----------------------------


Talking to the King
D. Forgive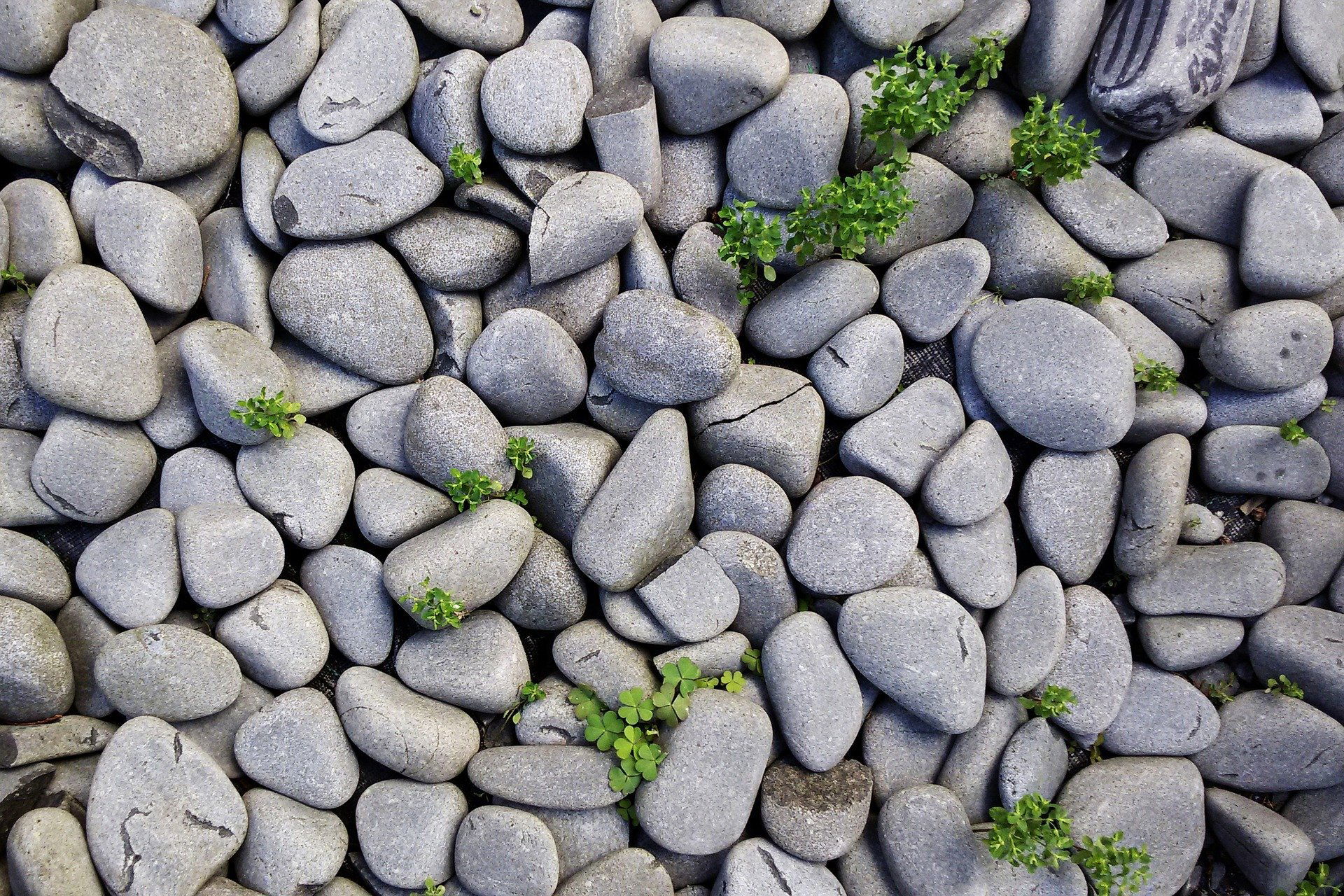 Forgiveness is also a response of love. Forgiveness has nothing to do with people deserving to be forgiven. No one deserves forgiveness. That is what grace is. None of us deserve it, but God gives it to us when we forgive others. When we truly understand how much He loves us and He loves others, forgiveness becomes a a joy.
However, sometimes forgiveness is hard. Sometimes we must will ourselves to forgive and ask God to help us. Sometimes the feelings of forgiveness will come later.
For this lesson, we understood that un-forgiveness or grudges were like carrying around an armload of rocks. Rocks in the soil and on the soil or our heart gardens keep our spiritual plant from growing stronger.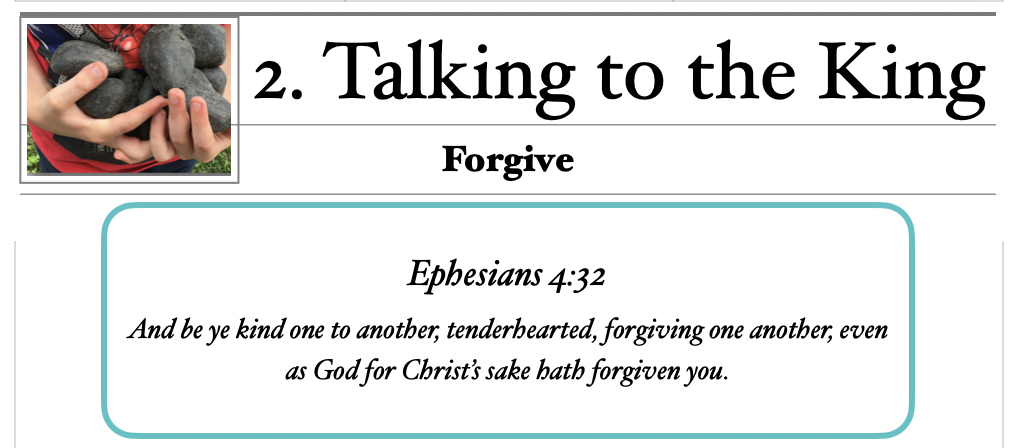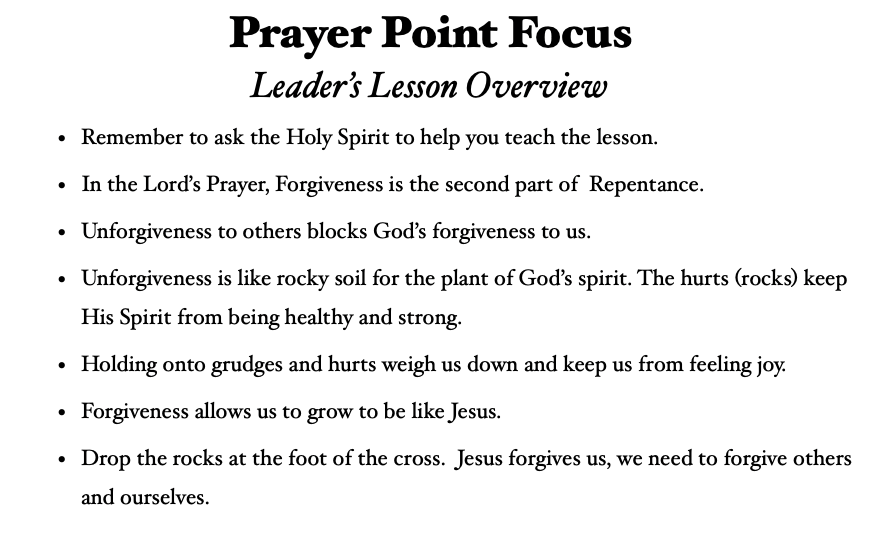 In Hebrew poetry, called a "chaism" verses are built around a central point. It looks like the Lord's Prayer follows that pattern with Repentance and Forgiveness being the central point. This is not necessary to teach to the children, but it is an interesting point. And when you think about it, our response to God's love to us and our heartfelt prayers to Him are all hinged on this point : repentance and forgiveness.
Do children carry grudges and un-forgiveness? Probably not very often. Children are usually quick to forgive and forget. However, many of us adults have carried "rocks" and hurts into our adulthood from our childhood. Wouldn't it have been wonderful to have been able to let those go and not keep dealing with them still?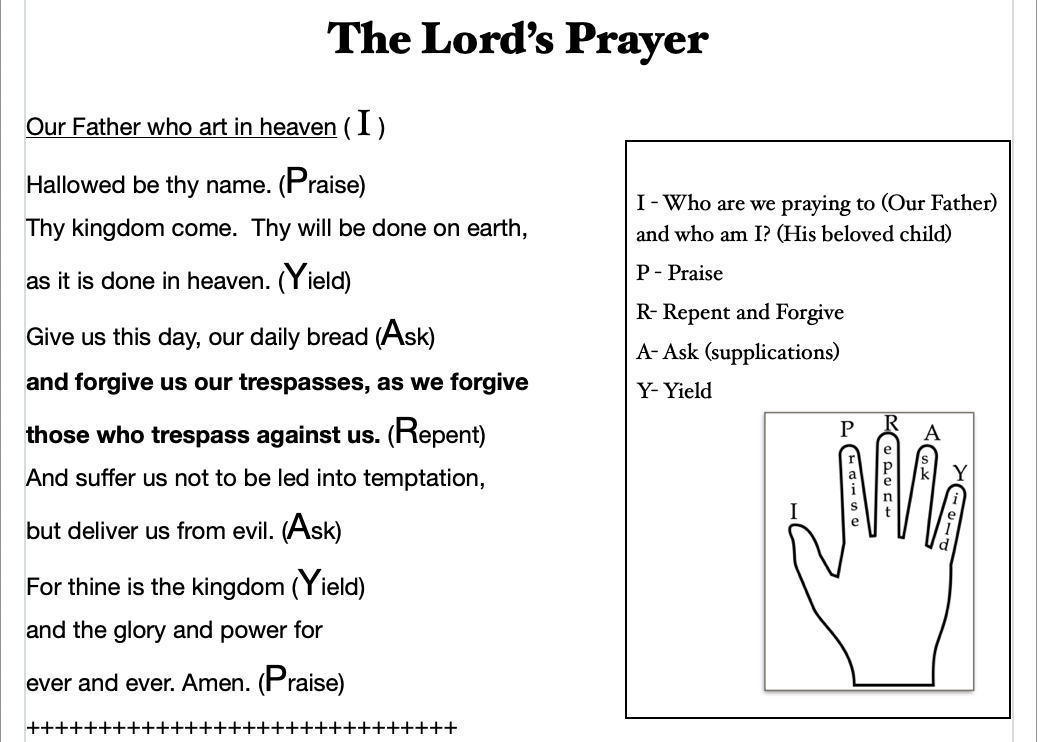 Pocket Full of Rocks Story
-----------------------------------------
Talking to the King
E. F.R.U.I.T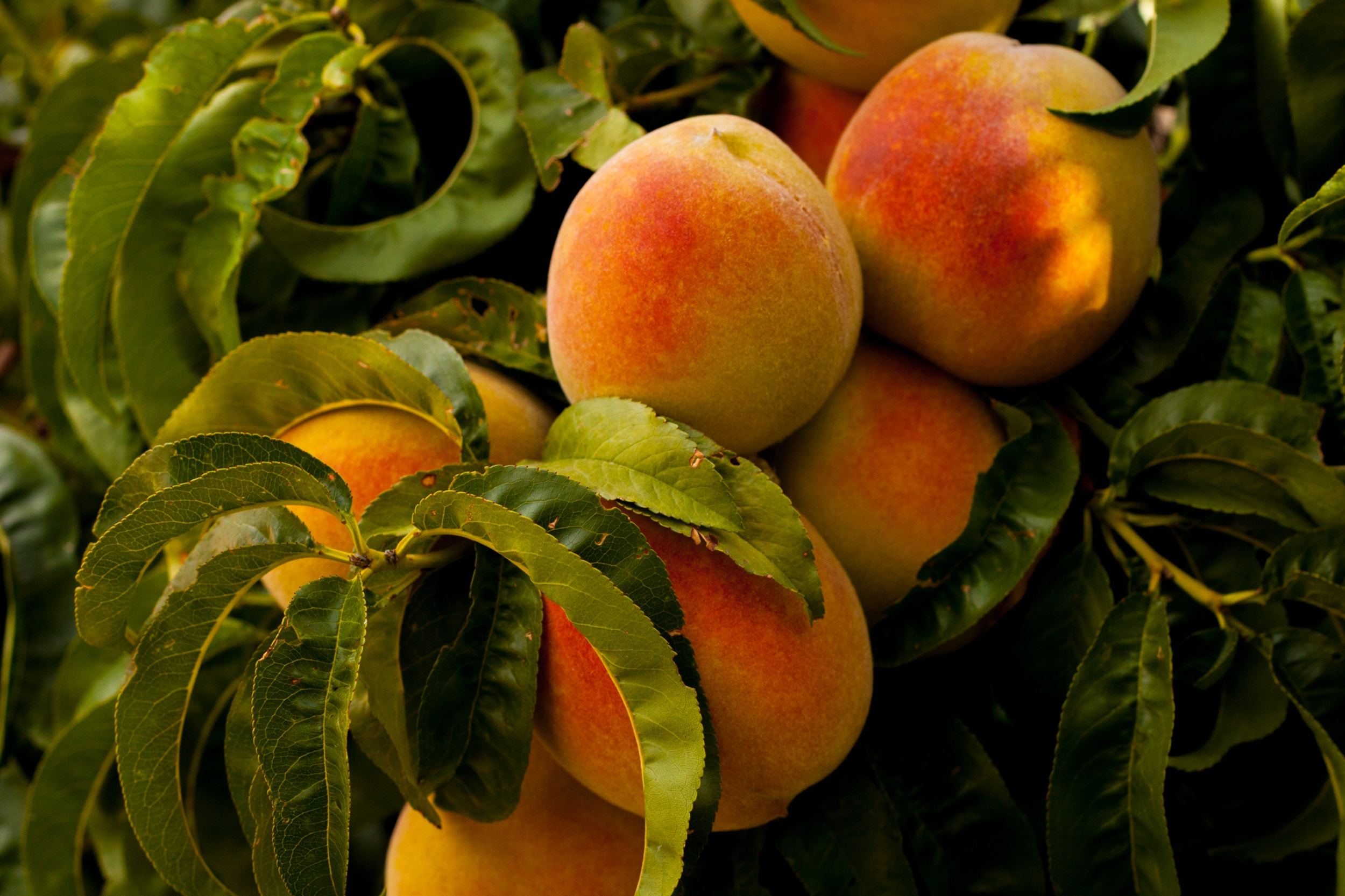 Spiritual fruit is the result of a life that is repentant and forgiven and focused on God's love. God's love is a fruit of the spirit, so is joy, peace, patience, kindness and others! How do we have fruit? By nourishing the tree. We cannot give away what we do not have.
If we are missing the fruit, we may need to go back to the beginning and focus on God's love, praise, repentance and forgiveness. These are the foundations of a faith in Christ Jesus.
As we have said before, these chapters are just for planting seeds. Some of us have been at this stage most of our lives. Children may or may not be able to relate to these concepts. It may be that the adults need to understand them more than the children.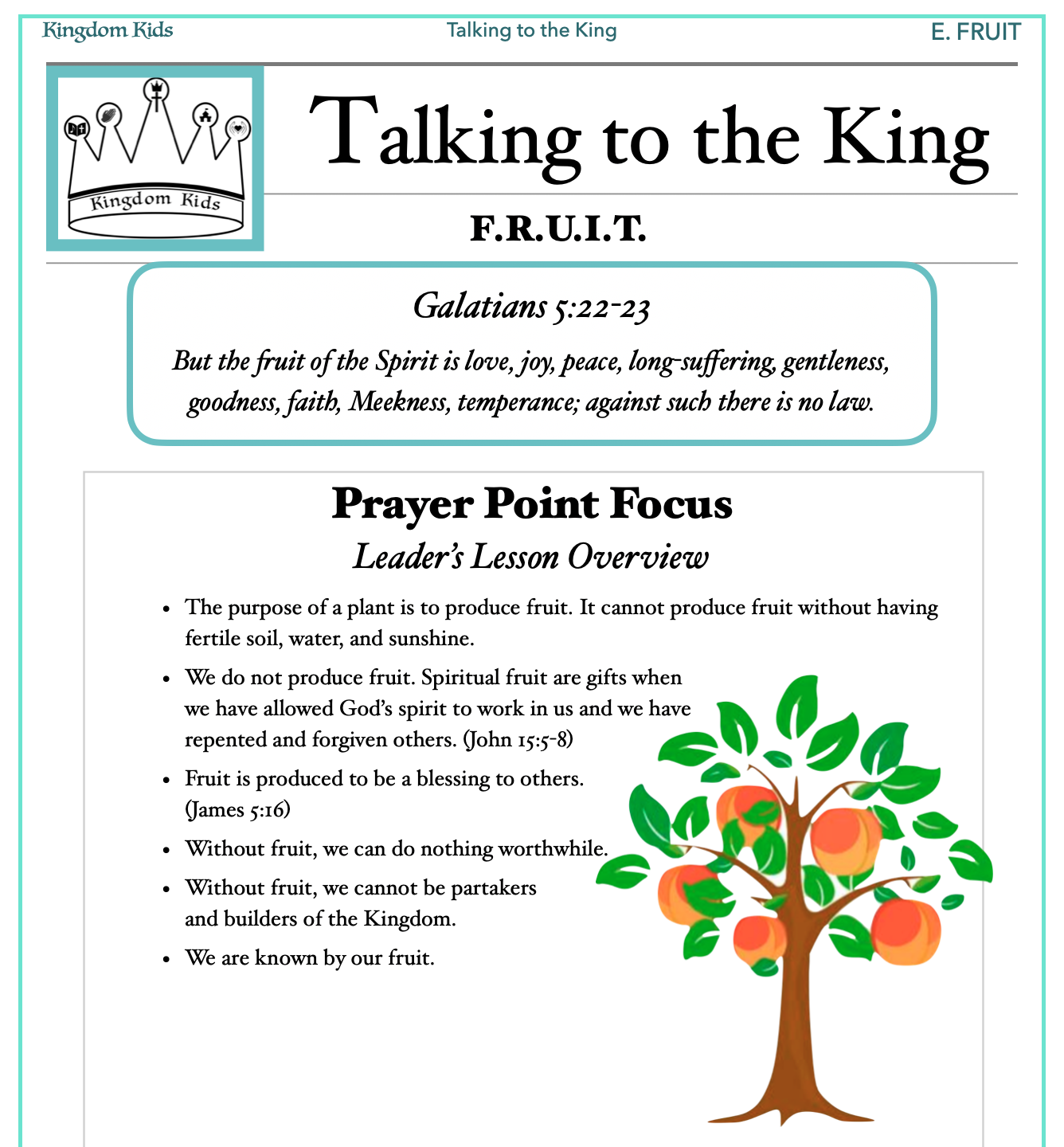 ----------------------------
Talking to the King
F. Ask and Yield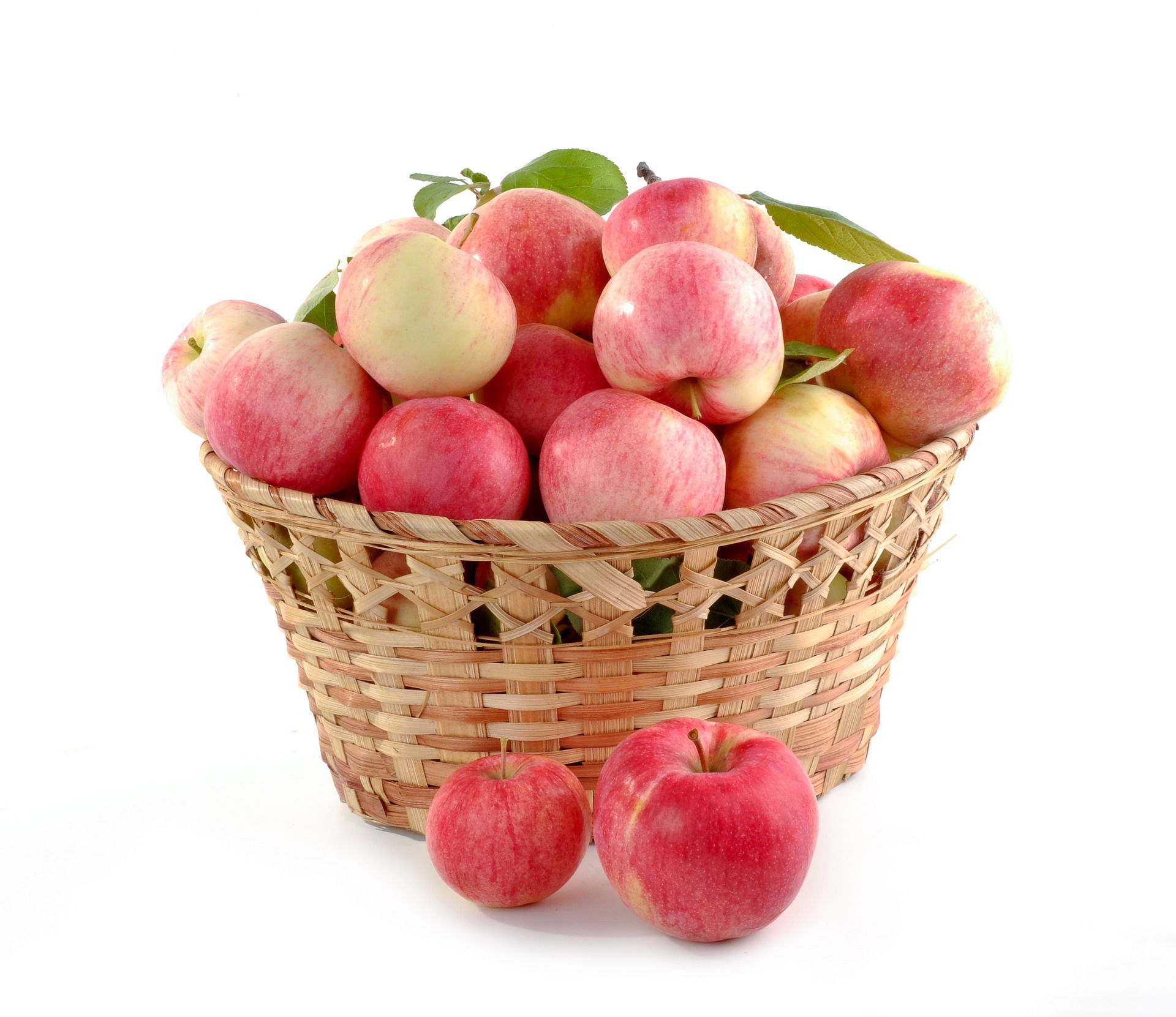 "Give us this day our daily bread." This is part of the asking part of the Lord's Prayer. Not only does it mean petitioning the Lord for the things we need, Jesus is the bread of life. Our daily bread is asking for Him to be with us and part of us each day. Even though God knows all of our needs before we ask, He wants us to be partners with Him. He often gives us what we need before we ask, but He wants us to bring our requests to Him and then yield to His way and time to answer those requests.
This is part of His loving relationship with us. If we know that He loves us more than we can comprehend, we will know that God gives only good gifts. He is truly a good gift giver. And through the FRUIT of the spirit we can ask and yield and truly partner with Him in prayer.